We've been designing flowers for weddings for over 25 years and have a well- earned reputation for unsurpassed beauty, service, and quality.
Our success has taught us that each bride and groom - and each wedding - has its special charm and personality. As each client is unique, so is each Wisteria wedding. We listen carefully to our clients and design each wedding from scratch - no cookie-cutter weddings here.
We welcome your ideas. Come with lots of ideas or a few. We'll work with you to give you the wedding of your dreams.
Wedding FAQ
Where are you located?
We are located in the Mount Vernon area of Alexandria, Virginia – just 10 minutes south of historic Old Town. We work from a studio location which resembles an old carriage house. Look for the cobblestone driveway and big black doors. *Please note that The Studio is our creative workspace and not a retail location, so it's best to call for an appointment. That way, we can be sure to be available to give you our undivided attention.
How far out do I need to book?
Because we're a smaller business, we only book a limited number of weddings each year, dates generally book between 6-12 months in advance. It's not necessary to have all details of your wedding settled before checking in with us but it is helpful if dress selection and/or venue have been determined.
How much do wedding florals cost?
Costs are highly variable, but for most of our brides, the floral budget is between 15-20% of the total cost of their wedding. *More on Pricing below….
What is the process?
The process typically starts with an informal telephone conversation with Stephanie (owner). Next, we set up a complimentary consultation here in the Studio, after which we formulate a rough estimate for you. Once a deposit is received (non-refundable) your wedding date is reserved. We then offer a follow up appointment via telephone 4-6 weeks out from the wedding date to finalize all details/logistics.
Pricing
We thank you for visiting our website and considering our work. Our hope is that you'll consider setting up a consultation with us to discuss your wedding floral needs. As a custom floral company, we design specifically and uniquely to each of our client's needs. Therefore, no two weddings are alike. With this philosophy, it becomes difficult to offer general price quotes online.
However, we do understand clients have budgetary requirements so please find below a list of *average prices.
• Hand-tied Bridal Bouquet: $300 min.
• Hand-tied Attendant Bouquet: $165*
• Boutonnieres: $30*
• Corsages: $45*
• Ceremony Arrangements: $425*
• Low Centerpieces: $195* and $150 min.
• High Centerpieces: $395 min.
*Minimum $4,000 (during primary wedding months)
**Options - Pick-ups available; we do pack weddings "to go".
We do appreciate the more intimate and moderate-size wedding too. We're happy to service smaller weddings in our local community and offer exceptions to our budgetary *minimum. We hope you'll reach out to us, if your wedding lies within zip codes: 22314, 22301 or 22306-09.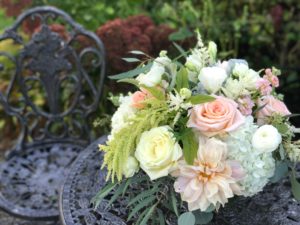 In addition, Wisteria has been chosen as one of the leading florists in the Washington, DC Metropolitan Area and is listed in Washingtonian magazine's "The Perfect Wedding Guide" for excellence in weddings for years.
Wisteria has been featured in The Washington Post Express, Flavor Magazine, District Weddings, and DailyCandy.com. Wisteria has also received the Bride's Choice Awards from WeddingWire.com and the Couple's Choice Award for outstanding quality and service as a vendor.
"All the flowers of all the tomorrows are in the seeds of today."
- Indian Proverb